Contact us as part of your CSR strategy!

We assist in the design areas to be planted with trees as part of an environmental and social CSR strategy for businesses.
More and more companies are adopting a social and environmental responsibility approach through tree planting.
Greenwashing is not a solution; local tree planting for sustainable development, yes!
Do you own a urban or peri-urban space near your establishment?

Take action for the environment by planting trees locally on your business park!
This is a concrete action that contributes to the preservation and strengthening of the Biodiversity in local urban areas!

Help create 'fresh areas'!
* Get professional assistance and grants for tree planting or biodiversity conservation in France!
Tree planting is a simple way to act locally against global warming and improve the urban environment.
What are the benefits of trees for a company?

For a more 'virtuous' business model!?
A more humane and environmentally friendly company is now gaining more markets and improves its productivity through the well-being of its employees!
Tree planting meets CSR's goals! And trees contribute to the company's real estate value in the long term!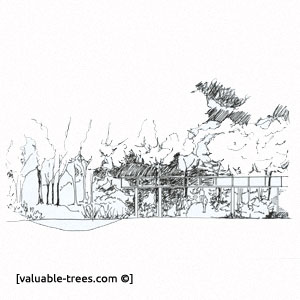 And your company will participate in:
Carbon sequestration and storage.
The reduction of air pollution.
Better management of rain water around buildings.
A thermal regulation around buildings and therefore an energy impact
the well-being of employees: a forest promotes relaxation, decreases stress and reconnects to nature.
Opt for a 'tailor-made' and professional trees plantation!
As landscape designers, we can design for you a harmonious and professional tree area, a small 'urban forest' or simply assist you with a plantation of ornamental or fruit trees!
Sustainable trees plantations!
A plantation must not be improvised: the choices of species and their location must be well thought out.
This, so as not to generate problems of cohabitation or future management expensive!
Moreover, a tree management over the long term, will promote economic and sustainable management of your trees!
Our planting projects and tree selection are integrated into a sustainable management reflection. They take into account the current researches of the scientific community with regard to global warming, respect for trees biology for a 'healthy' plantation and genetic diversity.
These are the founding principles of a sustainable and resilient plantation.
Do you need the support of a CSR Expert to structure your approach?
We can advise you a professional firm for support tailored to your needs!