Contact us for an online landscaping study!
Whether your garden is small or large: we can design your project, according to your constraints and wishes! In addition, we will bring you suitable advice for the management of your trees or shrubs. Then, all you have to do is make your own garden at your own pace!
Whatever the place of your garden, the principle is to exchange by email and phone.
In practice:
1) You send us an address, phone, pictures and plans.
2) We contact you to better target your needs and send you a quotation.
3) You accept the quotation (payment by CB or bank transfer).
And you will receive by email return:
---
A CUSTOM GARDEN DESIGN PROJECT!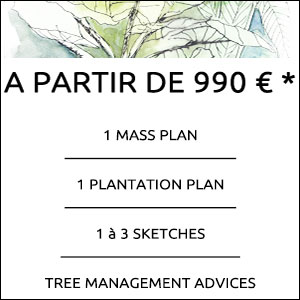 * this price is intended for a land inferior to 50 m2.
---
A STUDY OF YOUR GARDEN PROJECT
A tailor-designed study for a professional garden design!
The study that will be provided to you by email (in document *. pdf) will contain: a plan of the Garden Project, explanatory sketches, details of the implementation, a precise planting plan.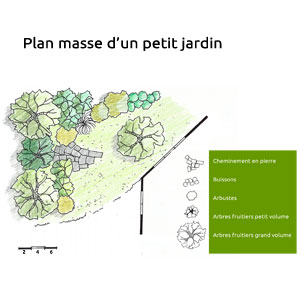 We will tell you the necessary plants to buy and advise you on their purchase (varieties of fruit trees or ornamental trees best suited to your region)… etc. This document will also contain recommendations for the future management of trees in your garden.







TIPS ON CHOOSING AND PLANTING YOUR TREES!
Relevant tips for choosing your trees or shrubs!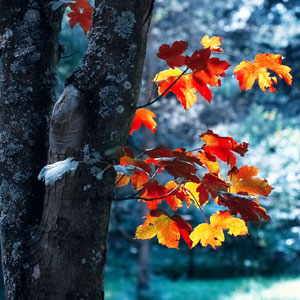 The tree is the largest and most durable subject of your garden. Well-kept trees will add a financial value your garden in the long term!
In addition, trees participate in your living environment and have a significant influence on your psychic balance, your health.
They improve the quality of the air you breathe and will render you an invaluable service in times of global warming!
There are trees, shrubs and shrubery of all sizes that can fit your garden!

The right tree in the right place!
Avoid neighborhood problems due to the growth of trees not suitable for your garden! Trees of which adult crown has not been clearly foreseen will generate exorbibantly high pruning costs!
Avoid buying trees that are prone to pathogens and whose provenance is not known! Let us advise you on the quality criteria in the purchase of a tree or a shrub.

TREE MANAGEMENT ADVICES
Tips for maintaining your trees and shrubs in the long run!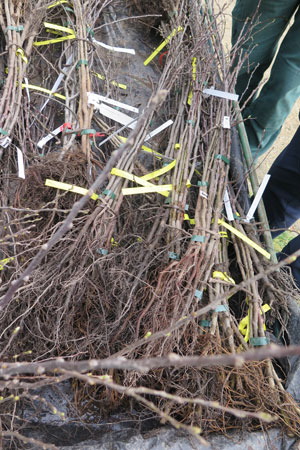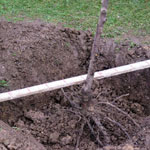 Planting
Watering
Staking
Tree Care
pruning or… no pruning!
About trees pruning…
Pruning can be detrimental to your trees. It can even initiate the development of diseases and lignivorous fungi.
The tree alternates in a natural way growth, development and spontaneous pruning.



We can guide you in understanding a respectful and harmonious pruning of trees and shrubs.