Tree planting
Contact us for your tree planting projects!

We propose our services to:
private owners, hotels, campsites, land managers, business parks on the French Riviera (and surrounding Departments).
Tree planting projects and landscape design
Ornamental trees, fruit trees… a landscape design focused on perennial plants!
Do you wish to replace your current trees with trees more suited to global warming?
Do you have a garden? A piece of land? A park? a wild land that could lead to the development of a: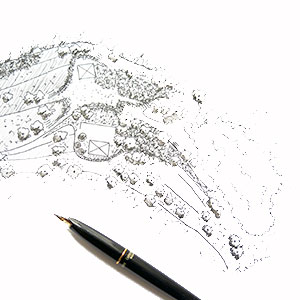 Tree planting composition for a better shade
A small-volume tree compositon
A composition with less flammable species
Urban Orchard
Corporate garden with fruit trees
Food-producing garden (urban agriculture)
Edible forest garden (see our current experiment)
The 'good tree in the right place'!
Regardless of the size of the project, a plantation management or renewal strategy aims to elect small or large-volume trees adapted to the site and to predict their evolution over time.
The tree in landscaping project: design, quality planting of trees, follow-up and tree management!
The application of Scientific and Technical Research for quality and sustainable plantations!
We propose the design and integrated management of tree compositions. To do this, we favour:
Landscape components focused on the perennial plant.
A simplification of the implementation (less built structures).
The use of the existing soil (to be enhanced by organic amendment).
Planting young trees and using spontaneous vegetation.
To integrate trees and schrubs management from the time of conception (creation of a tree management guide for a further follow-up).
The choice of quality plants (selection of trees and shrubs with root systems adapted to the project).
The optimisation of positive interactions between plants.
The biodiversity reintegration in trees and shrubs and the ontogenic ages heterogeneity of plantations.
Photos below: root system degraded (left), buried collar (right).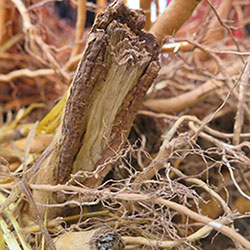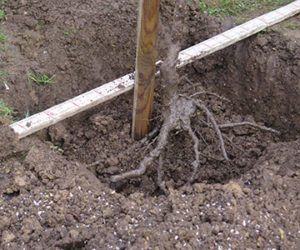 Frugal maintenance over 3 years!
In the face of global warming, optimising water use is crucial even on arid land!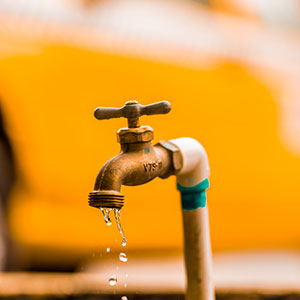 Depending on your budget we can implement the latest technologies in reasoned watering (by an accurate survey of the water availability of the soil) or a soil cover suitable for planting trees virtually without water!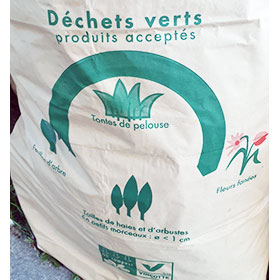 We give priority to:
Accompany trees and plantations to water autonomy.
The selection of drought-resistant plants (horticultural and rustic).
The appropriate and careful pruning size to optimise the ecosystem in place.
A reasoned maintenance and the plantation follow-up for the first 3 years.
Trees health and development control.
In situ recycling of green waste, materials by promoting suitable forestry.
An ecosystem self-regulation created by focusing on slow and small-scale solutions.
For a sober design!
A professional landscape design can artistically structure the space, while providing for a simplified implementation. It means 'composing with the existing'.
Frugal project: creativity at the service of a simplified design!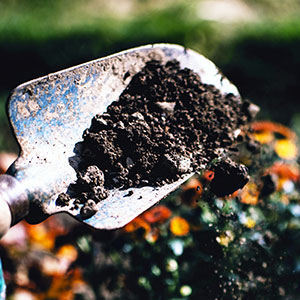 Historically modelled on the architecture sector, the payment of many landscape projects is calculated on the basis of a % of the amount of construction works. Very often this results in a very high proportion of expensive technical studies in constructions, installations and implementations, construction, works… Etc.
On the other hand, often, a small proportion is devoted to botanical studies, to the benefit of plant associations or to plantations care research.
Moreover, the interweaving of the many professionals who operate in a landscape project does not always allow a harmonious and comprehensive follow up of trees plantations.
We wish to propose a simpler design (works and preparation of the soil reduced to the strict necessities) with an integrated management of the tree planting and its follow-up.
This, on the basis of a flat-rate payment invoiced on the time-spent basis and works costs over the first 3 years.
For trees with high added value in the long term!
Well-managed trees greatly increase the financial value of the land!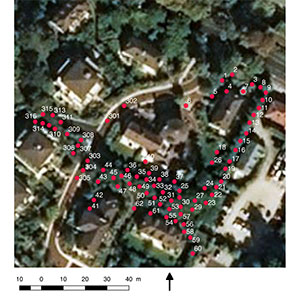 We may also ensure your long-term tree management.
Nowadays, a 'financial value' can be measured for well-preserved ornamental trees!
So, well-planted and well-preserved trees in urban areas represent a strong added value!
On the other hand, poorly managed trees are very expensive !!! Neighbourhood disputes, repetitive pruning, dangerous trees requiring arboreal expertise… etc. are numerous.
As a result, private owners, condominiums and companies owning a business park are increasingly investing in technical arboreal management of their trees!