Parks or gardens Design
Contact us for your parks or gardens Design

We propose our services to private owners.
We work in collaboration with Landscaping agencies and we are committed to taking into account the management of trees and shrubs. Depending on the size of your project, we can create a garden design for you. Otherwise, we will guide you to the professionals we work with to meet your overall needs.
Landscape design and plant management in time:
Plants' main peculiarity is to evolve in time. This attribute is the focus of our design projects.
We specialize in sensitive parks and gardens Design with an adept consideration of the biology and evolution of perennial plants.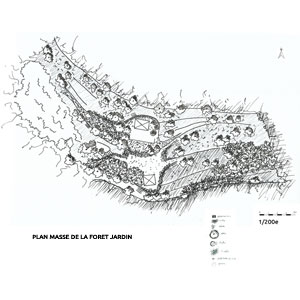 Our training at the Versailles National School of Landscape Architecture adds an artistic approach to our scientific training in arboriculture knowledge.
Generally, our design projects entails plan-detailing the concept of the design and the planned evolution of plants. Furthermore, we anticipate the maintenance to be implemented for trees care and the differentiated management of shrubs.
Finally, we also propose a long term tree management plan and their care.
Where need be, we call upon specialized engineering teams for execution and coordination of works by companies.
A quality and creative landscape design!
Parks or gardens design are based on a sensitive and graphic study. We are keen to produce quality, detailed graphic documents, illustrative sketches and photographs of our projects.
A special emphasis on trees and shrubs for their ornamental quality and landscape structuring
We engage in sensitive studies where we consider colour mixtures, sensations to touch, rustle of leaves and scents of plants.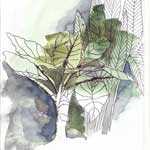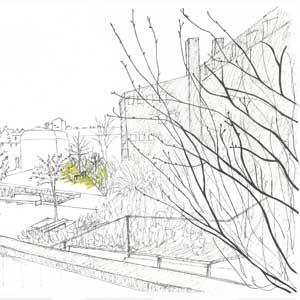 Let's not forget that the trees, season markers, are factors of equilibrium for psychological well-being!
Trees and shrubs, with their shades of light green, grey and dark green, are an infinite resource for the creation of groves, clumps, edible forest!
Parks or gardens design based on fine knowledge of trees and offering management plan to maintain them is therefore a necessity.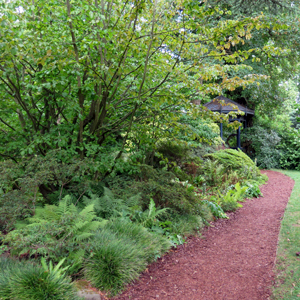 Trees generally articulate spaces. In addition, they help to refresh the air, increase humidity levels, lower temperatures and help limit certain pollution, among other amenities… trees can hide architectural elements that are sources of visual nuisance.
Making quality plantations is imperative owing to the low life expectancy of trees in urban areas.
Consequently, climate change is making this a necessity. Indeed, the resilience of tree species coupled with their phenotype plasticity, offers a good criteria of choice.
Even so, these choices demand proper command of the biological knowledge of trees and shrubs.
---
Various stages of the design park and garden design process:
A first appointment in situ aims to identify the expectations and the uses of the outdoors. It allows to define a global budget for the landscape project.
The following phases, independent of each other (as presented below), are subject to quotations, if you commit to the project.

Project Outline (pre-project phase) : we analyse the client's needs, study the site (from plans, photos, situation), assess outdoor activities, present a sketch and define the global budget.

Design phase: this phase entails validation of the sketch and final project. Production of graphic documents (mass plan, planting plan, ambiance sketches, perspective drawing, elevations, cross-sections, details and specifications), study of soils, micro-climates, plants range and technical choices.

Plant management plan. We establish the tree management plan and other instructions regarding plants requiring special care. We can provide long-term tree management.

Project: this is the design study phase which details the layouts and quantifies costs (consultation of the different companies involved in the project), general quotation.

Execution of the work. Depending on the complexity and size of the project, we rely on specialized engineering teams for the implementation, management and follow-up of the works on site. We choose the plants in nurseries and ensure that the realization of the garden is faithful to the project drawn.
Enregistrer