Tree diagnosis
Contact us for your Tree Management Plan

Our services are intended to real estate managers, private companies with a business park, condominium syndicates, private owners, business parks administrators.
Our tree diagnosis are conducted as part of a Tree Management Plan (read more details on Tree Management). After an inventory, the Tree Management Plan leads to a guideline to manage trees on a long term. It describes ontogenic status, diversity of species (weaknesses of the trees population, strenghts of young plantations). Tree Management Plan results in anticipating actions to be carried out and to establish a multi-year financial plan.
We make a simple diagnosis of trees: at the physiological, phytosanitary, mechanical and tree development level, which gives rise to the handing over of technical and landscape studies.

What is a tree diagnosis ?

Our mandate includes basic visual examination of the tree from ground level.
The examination also considers the surrounding environment, or group of trees if an entire tree unit is being inspected. The methodology applied for this tree diagnosis is known as VTA (visual tree assessment) and the archi method from Drenou.
Protocol used for a tree diagnosis:
Our VTA is a scientific method for diagnosing a tree and requires a good knowledge of tree biology and arboriculture. It is based upon the observation and analysis of any physiological failures of a tree, by way of comprehensive examination of its roots, trunk and foliage. This detailed analysis of the development and growth anomalies of the tree makes it possible to evaluate its state of health. Indeed, any early decline in a tree takes place over a long period of time and it can take more than ten years for trees to actually die!
Our evaluation includes:
stage of tree development,
quality of root anchorage by observing the root system that is visible above ground,
presence of any wounds, cavities, pathogens or lignivorous fungi,
assessing the condition of the trunk, branches and crown by looking for cracks, forks within the bark etc.,
assessment of the physiological state of the tree: its vitality, observation of the annual ramifications (for example length, foliage, fruiting), tree architecture, dieback, reactive capacity etc,
any peculiarities of the tree in relation to the known characteristics of its species,
any environmental constraints, and the use and history of the site in which the tree is located etc.
Simple tools are used to examine the tree, including a tape measure, binoculars, magnifying glass, mallet, geologist's axe and knife.
Our diagnosis report:
We produce a fully documented report for any tree diagnosis. It is accompanied by recommendations that may include the need to carry out in-depth diagnoses by a tree expert. This is the case, for example, whenever the tree poses a risk of danger in a site where there is a strong public attendance.
Example of the problems that can arise in tree diagnosis:
There are some tree problems that are not necessarily disturbing because trees have the strategies and resources (by way of chemical or mechanical control, or reserves) that deal with a range of stresses and pathogenic attacks. Long-term monitoring, through regular diagnosis, allows us to follow the evolution of the tree's defenses.
However, when an accumulation of climatic stress, water stress, weakness parasites, etc., alter any tree's photosynthetic capacity, roots or wood, it will undergo a significant weakening and a rupture can abruptly follow.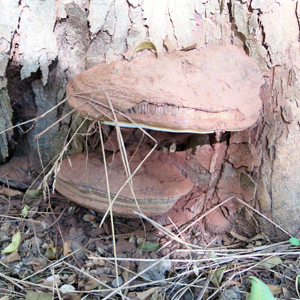 The photo opposite illustrates: ' Ganoderma applanatum ' in the tree collar.
This fungus induces a selective white rot of heartwood and roots. In this case, a control of the residual wall of healthy wood (PRBS) must be made by resistograph and tomograph in order to deduct the real risks of breakage of the tree. When this happens, a tree expert must be called upon to assess the risk of the trunk rupture.
In fact, compartmentalisation by the tree (isolation of damaged tissues and lignivorous fungus to limit its progression) can have no effect on this fungus, whose sporulation is extremely abundant.
Cases when a thorough diagnosis with a tree expert is needed:
When visual examination at the foot of the tree proves to be limited, a more thorough diagnosis is necessary. An expert is then needed to detect mechanical problems (cavities which are difficult to visualise with the naked eye, weakened anchorage possibly caused by a lignivorous fungi etc) that can make the tree dangerous.
We collaborate with several recognised experts and we can advise you on those qualified to carry out in-depth tree diagnosis, as needed which includes:
Resistograph drilling to evaluate the residual wall of healthy wood (PRBS),
Sound-wave digital imaging (tomograph) to quantify the degradation of wood in a cavity (less invasive technique),
Climbing into the crown to analyse cavities or wood rot at height,
Exploration of roots by excavation,
Pulling test (wind and storm resistance analysis),
Soil analysis and Geobiology,
We can also refer to laboratory tests to examine rotting fungi or other pathogens.
These external services will be subject to additional quotes from these professionals.
These more detailed investigations are often justified for large trees, remarkable trees or senescent trees in places where people or structures are present.