Tree transplant shock recovery's monitoring
Contact us for a follow-up of transplanted trees recovery
In the context of landscaping, after the traditional plant recovery period, tree transplant shock recovery's monitoring may become necessary a few years later.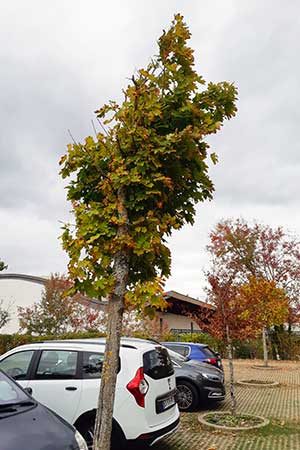 The reaction time of perennial plants varies according to the essence and the initial conditioning of the latter.
The assessment of tree recovery is a long-term agenda and follows right after transplantation. It is also done in proportion to the size of the transplanted tree.
Indeed, the transplant crisis is prolonged in bulky subjects, with a force greater than 18-20 for example (7 years or more…). The transplant consists of pulling a tree from one place and replanting it in another place. As a result, the reaction of a transplant can either result in the good tree development and growth or in its final decline! This uncertain amount of time can be long!

To declare a complete recovery, several conditions must be met. The tree must develop and reach dimensions (width, height) and architecture that conform to the characteristics of its essence.
What is tree transplant shock recovery's monitoring?

Our physiological reading grid of the tree allows us to elaborate an accurate diagnosis.
Trees develop according to a well-defined architecture, depending on their essence and their environment. Our knowledge of botany and plant Biology enables us to diagnose their development and growth.
In the case of a total dieback, we propose a plantation renewal study.
Whenever assisting with parks and gardens design projects, we always advocate planting a majority of young trees. The young plants will have undergone much less traumatic transplantation. Above all, despite the slightest effect on planting, a young plant catches up in a few years the development of a tree of superior strength in the 'state of recovery.' While the latter can stagnate without growing for many years.