LANDSCAPE DESIGN
Contact us for the creation of a new landscape.

We propose our services to:
privates but also design and technical department, architects, landscape designers of public spaces, promoters, building contractors.
We propose our collaboration to design and technical departments that do not have an in-house tree specialist and that care about proposing sustainable plantings in new projects of architecture or landscape design.
We associate design, management and follow-up which is concerned with special care for the evolution of plant dynamics.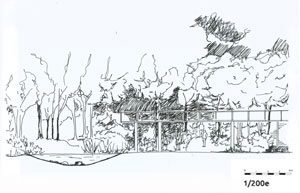 We have been professionally trained in park and garden design by the Versailles National School of Landscape Architecture. We are also trained in sustainable management of trees by the INRA Scientific Department. With our experience we can ably offer services including:

Renewal of tree plantation. To do this, we will first carry out an analysis to establish the cause of failure of the initial planting. There could be a number of reasons for this including trees dying, inadequate volume, inadequate soil and other reasons. Based on the results of the analysis, we come up with a proposal for new planting.

Creation of parks and gardens : biodiversity, disease resistance, resilience and phenotypic plasticity may be criteria of choice requiring extensive study in the choice of trees and shrubs.
Treating trees with respect
We undertake landscape designing with respect to trees. We are both sensitive and technical in our approach to the management of trees and shrubs. We take care of planning quality and perennial plantations in the long term. We are also keen when it comes to maintenance and we take plant management costs into consideration such as the cost of pruning, maintenance and watering.
In-depth knowledge of the physiological and biological needs of trees.
We keep updated on the latest scientific research findings (botanic and tree biology) and recommendations. We are also inspired by bucolic landscapes that lead to contemplation. This is because we have respect for urban trees and we strive to maintain a sensible, sensory and aesthetic approach to landscaping.
In summary, when you choose our landscaping services, you choose respect for perennial plants and their physiological and biological needs.
Sustainable management of trees
Frugality of maintenance of trees
Use of environmentally friendly materials whenever possible
Plants biodiversity
Use of seedlings from known seed and provenance
Planting of young subjects with a future
Care and concern about the soil.