Contact us to create your urban forest together!

We provide assistance in urban forest design and implementation. Our studies, planting projects and choice of trees are integrated into a sustainable management plan.
The planting of an urban forest can be considered from a few hundred m2! Make your site greener efficiently and sustainably!
Do you want to act for the climate? The planting of a urban forest meets the objectives of CSR!





Do you own a urban or peri-urban space near your company or school? A
'urban forest' may be the adequate response to your Social and Environmental responsibility policy!
Participate in creating a healthier environment by opting for tree planting!
In practice:
Whatever the location of your land, we can provide assistance in France or abroad.
1) design and implementation with our partners.
2) collaborative planting with your employees and/or volunteers!
3) long-term follow up of your trees!
---
OUR VISION OF A URBAN FOREST:
Ecology & biodiversity for a resilient forest!
A special care to favour recovery of the microbial life of the soil!
Whether it's planting on a wasteland or de-artificialized soil, urban conditions are often very harsh for trees. Beyond often-needed topsoil and compost, whose provenance is known, preparing the soil for a recovery of microbial life is essential to recreate an environment beneficial to tree plantations.
We offer 100% natural and ecological preparations upstream of the plantation to regain an airy and lively soil, regardless of the original soil!
Planting young trees!
Respect for the time of the tree is a founding principle of our vision of an urban and sustainable forest. Influenced by the latest scientific knowledge in tree biology, we work with respect for the plant and its physiological needs.
Only young plants, which have not undergone any transplants, have the ability to develop properly and adapt to their environment. With a genetic diversity, they have a good survival strategy in place and are more resilient.
We select plants from known seedlings.
We favour ecological and biological materials and amendments, of which we know the provenance.
An innovative plantation according to the Miyawaki method!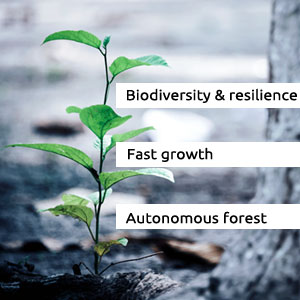 Share our enthusiasm for the native forest planting method designed by Japanese botanist Akira Miyawaki!
Reforestation is at the heart of the project.
We also take climate change into account and adapt plant choice to this method.

= > Learn more about this method

---
WOULD YOU LIKE A LANDSCAPING DESIGN FOR YOUR URBAN FOREST?
Landscaping and naturalness: we design for you a urban forest combining naturality and accessibility!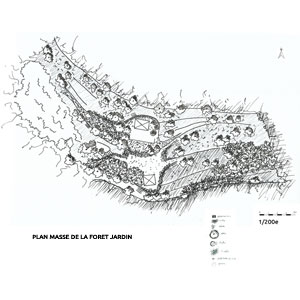 A suitable design allows to include paths and human frequentation planned since the 1st design steps and respectful of the ecosystem.
A design and management that regulate human impact respect the settlement of natural habitats.
Different types of landscaping can be adapted to the size of the project.
Your employees can benefit from an immersion in a natural afforestation!

We offer you an harmonious and professional forest design and a follow-up of your trees in the long term.
WHAT ARE THE BENEFITS OF A FOREST FOR THE COMPANY?
Trees will contribute to the company's real estate value in the long term!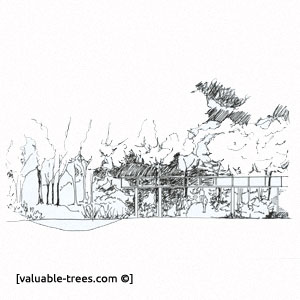 An your company will participate in:
Carbon sequestration and storage.
The reduction of air pollution.
Better management of rain water around buildings.
A thermal regulation around buildings and therefore an energy impact
the well-being of employees: a forest promotes relaxation, decreases stress and reconnects to nature.


---